1. Artisan Beach House
Located within the Ritz-Carlton, Artisan Beach House is a stunning seafood-centric restaurant. The dining room's floor-to-ceiling windows overlook the Atlantic, where much of the menu's fresh catches are sourced. Utilizing local produce and inspiration from generations of fishermen, Artisan Beach House presents sophisticated breakfast and lunch/dinner menus.

Start your day on a sweet and healthy note with an acai bowl, complete with mixed berries, mango, kiwi, banana, coconut, and sweetened condensed milk. For a more substantial plate, opt for the ABH breakfast, served with eggs, bacon/sausage, potatoes, toast or pastry, a fruit bowl, and a choice of juice, coffee, or tea.

For lunch, share some fresh guacamole and jumbo wings with friends. Follow the appetizers with a luxurious plate of forest wild mushroom penne served with blistered cherry tomatoes, asparagus tips, porcini cream sauce, Parmigiano Reggiano, and fresh herbs. Taste the gifts of the Atlantic with the fennel pollen-crusted corvina or grilled salmon. Whichever time of day or dish you order, you cannot go wrong with a visit to Artisan Beach House.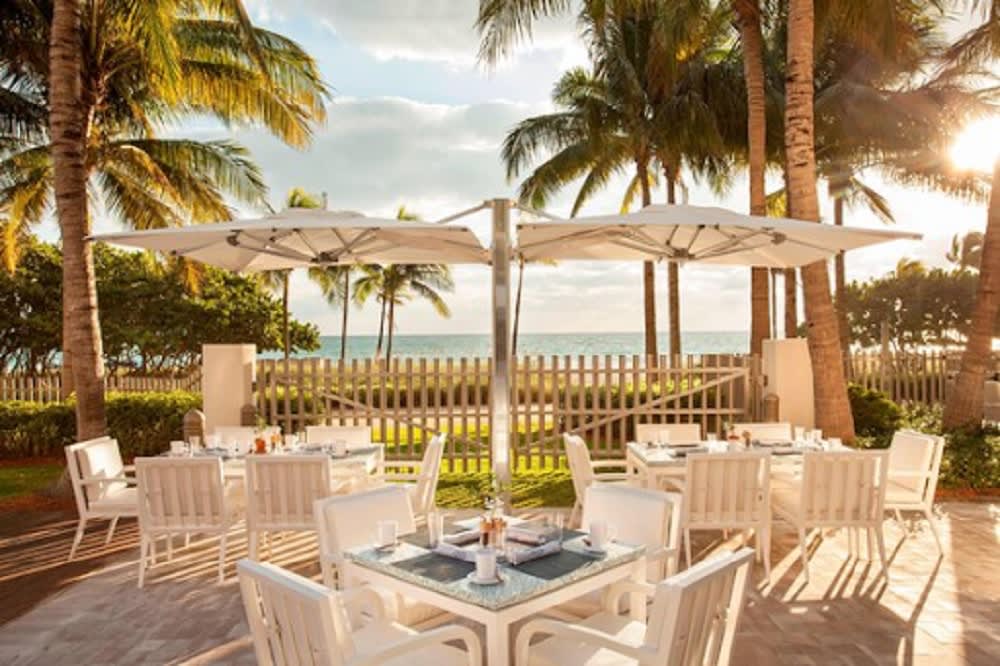 Atlantikós' patio, Credit: Atlantikós
2. Atlantikós
Nestled in the St. Regis hotel in Bal Harbour, Atlantikós takes you on a culinary journey to the Mediterranean. This indoor-outdoor Miami Beach restaurant features lounge and bar seating, with beautiful shades of bright blue and white weaving throughout the decor. Opt to sit on the patio to experience a welcoming ocean breeze and ocean views while you dine on delectable Greek meze plates.

Some meze dishes include grilled octopus served with Santorini fava beans, pickled sea fennel, caper berries, caramelized onions, and a toasted Greneva manouri cheese adorned with honey and pollen. Entrees include oven-baked yellowfin seabream and vegetable moussaka prepared with eggplant, potatoes, zucchini, mushroom ragout, and béchamel. Try the traditional semolina halva for a sweet ending. It's a dessert made with raisins, pine nuts, orange marmalade, and Greek yogurt ice cream.
3. The Surf Club Restaurant
The Surf Club Restaurant by Chef Thomas Keller is a celebration of continental cuisine and a lifestyle of leisure. Through exceptional cuisine in a beautiful seaside location, this restaurant offers an extraordinary dining experience.

The menu features global fare with European influence. Snacks include marinated olives, French onion dip and kettle chips, deviled eggs, and "fire and ice." It doesn't get any fresher than a classic Caesar salad prepared tableside or an order of hand-cut steak tartare. Order some Regiis Ova Ossetra caviar for two, oysters on the half shell, or the grand plateau for a varied seafood platter for a lavish and decadent treat.

The entrees vary in flavor profile and proteins, all of which are prepared with the finest ingredients. The European sea bass, Dover sole meuniere, and Maine lobster thermidor are beautiful homages to the sea. Stay on land with the roasted Nourished Pastures chicken or the Snake River Farms New York strip steak. Indulgent and elevated, The Surf Club Restaurant menu is indeed worth exploring.
4. Taquiza
There are few things in life more satisfying than seaside tacos and cervezas. Taquiza is a hip and modern beachfront eatery in North Beach offering tasty tacos and craft cocktails. Tacos are served on handmade blue corn tortillas and topped with cilantro, radish, lime, and onion. You can't go wrong with the asada tacos, made with grilled hanger steak marinated in citrus pasilla negro and chile de arbol. For a smoky-sweet option, order the al pastor tacos, served with grilled achiote-marinated pork and charred pineapple.

If tacos aren't what you're craving, there are several shareable snacks on offer. Totopos are hand-pressed organic blue corn masa chips, fried to order, and served with housemade salsa with optional sides of guacamole, queso, or frijoles. Taquiza's quesadilla is unique, prepared with squash blossom, crispy cotija, and melty Chihuahua cheese with crema. Order a tostada with all the veggie fixings, or add some protein for a heartier plate. Wash it all down with some hibiscus or passion fruit sangria, micheladas, beers, margaritas or shots of tequila blanco, reposado or mezcal. For a tasty seaside Mexican meal created with modern flair, head to Taquiza.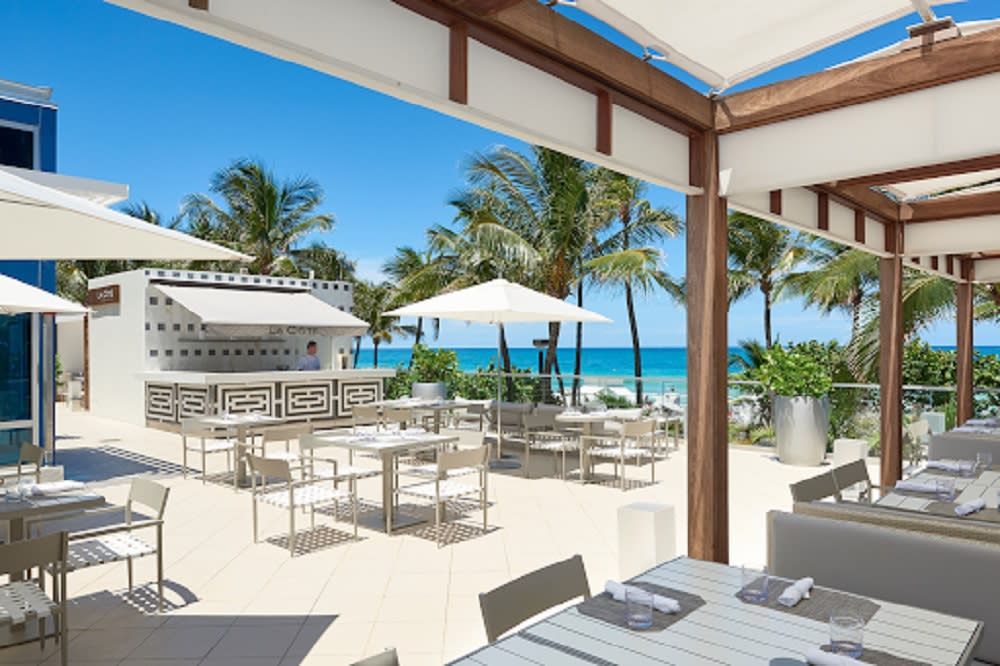 Credit: La Côte
5. La Côte
Enjoy a chic, oceanfront French-Mediterranean dinner at La Côte, located in the polished quarters of the Fontainebleau hotel. The restaurant offers patrons a South-of-France vibe with Miami Beach inspiration via its mixologist-curated cocktails and live DJ. Open from 11 a.m. to 6 p.m. daily, it's the perfect spot to meet friends for some drinks and snacks.

Vodka lovers adore the refreshing ginger mint and peach paradise cocktails, while tequila enthusiasts love the smoky margarita and watermelon basil margarita. Sangria, beer, wine, champagne, and seltzers are also in full swing. Soak up some of that alcohol with the bruschetta, made with fava bean hummus, eggplant caponata, tomatoes, and basil. The chicken wings come dressed with harissa glaze for a twist, while the shrimp cocktail remains a staple. Order some tasty avocado toast, prepared with radish, whipped feta, basil, and tangy lemon oil, or some grilled octopus with crispy Yukon potatoes, piperade, and saffron oil.

Heftier dishes include sandwiches made with a selection of crab cakes, seared tuna, burgers, falafel, and turkey. There are plenty of veggie sides to pair with a plate of local snapper, scallops, prawns, or Maine lobster. So hit up your crew, snag a seaside table at La Côte and enjoy delicious dishes, drinks, and laughs.
6. Morgan's
Relish a warm summer evening, taking in the breathtaking waterfront views at Morgan's. Morgan's is an Arlen Beach neighborhood treasure with a cozy atmosphere fit for soul-nourishing comfort foods enjoyed with good friends and family. Grab some hummus and chips, cod croquettes, and savory nachos for the table. Your kids will chow down on chicken tenders or mozzarella grilled cheese and fries while you enjoy a hearty steak sandwich. If you're in a pasta mood, opt for seafood spaghetti or gnocchi made with pecorino, mushrooms, pistachio, and salsa verde.

Lighter courses include Morgan's salad made with roasted beets, walnuts, bacon and goat cheese, and chicken avocado Caesar salad. Lunch specials include three beef sliders, a half tuna salad sandwich, and a half BLT featuring lettuce, tomato, bacon, avocado, microgreens, and garlic aioli served atop sourdough bread. The mains vary, but favorites include PEI mussels, chicken pot pie, pan-roasted chicken, skirt steak, and more. Enjoy some Hazy Little Things IPA with your dinner, or indulge in a peach bellini and ice cream sundae for dessert. Every meal served at Morgan's is made from scratch, with love.
7. Scarpetta
The Fontainebleau's Scarpetta features a regional Italian menu led by James Beard award winner Scott Conant. This fine dining establishment showcases Italian dishes with refined flavor profiles amidst stunning views of the Atlantic Ocean.

Begin dinner with some tuna tartare or Sicilian ceviche, followed by a luscious serving of braised short rib and creamy polenta served with fricassée or truffled mushrooms. Get some arugula or burrata salad before diving into the main course. All pasta is made fresh on-site, with several robust selections to choose from. Spaghetti is served with a classic tomato and basil accompaniment, while adventurous eaters can opt for the duck and foie gras ravioli dressed in a marsala reduction.

If you are craving fish, try the branzino, local snapper, or Chilean sea bass made with leek and fennel confit, sweet potato, and squid ink sauce. Meat lovers will struggle to choose between the chicken breast, lamb chops, or savory filet served with asparagus, crushed potato, and truffle jus. Save room for dessert, as the warm Amedei chocolate cake, vanilla beach cheesecake, espresso, and praline tiramisu are exceptional confections. Reserve a table at Scarpetta for your next date night.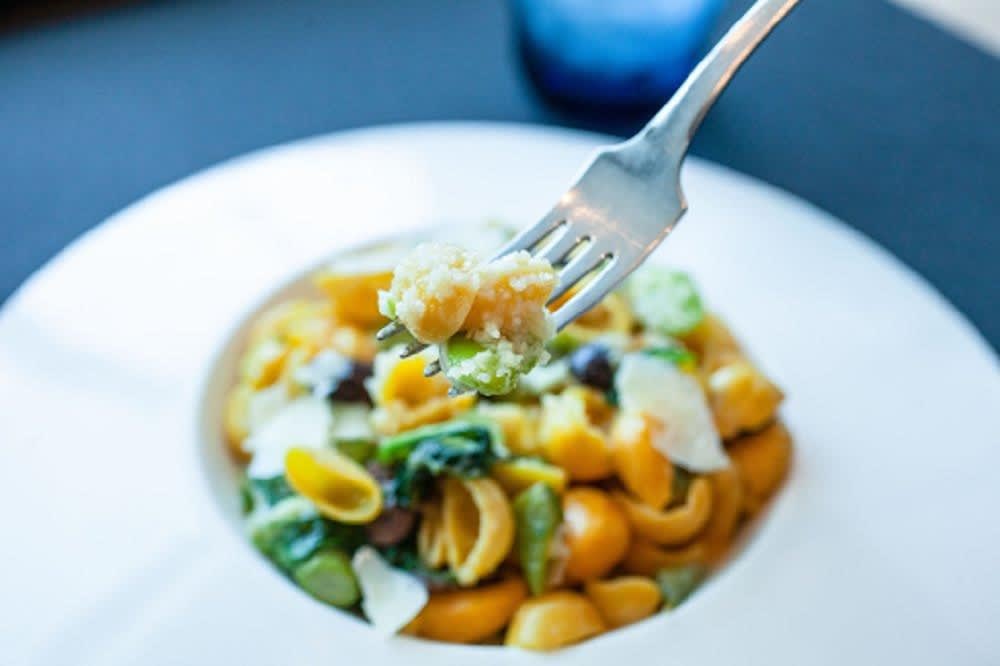 Credit: Business owner / Yelp
8. The Strand
The Carillon Miami Beach Resort & Spa is home to The Strand. Their oceanfront patio is the perfect spot to enjoy a contemporary Mediterranean breakfast, lunch, or dinner. The carefully curated menu sources ingredients from local farms and showcases Florida's organic community.

Appetizing plates offered at lunch include crispy artichokes, salmon poke bowls, vegan Carillon pizza, and more. Dinner is well-rounded with rigatoni pasta served with traditional Italian bolognese and parmigiano cheese, and the catch of the day served with vegetable stir-fried rice. If you prefer a meal catered to your palette, create your own wellness dish, complete with a six-ounce protein, sauteed vegetables, and starch accompaniment.

Miami spice lunches and dinners are available starting August 1, offering patrons pre-fixe dining options. Some featured dishes include beef tartare, fire-roasted eggplant medley, stuffed quail char siu, and lavender-infused creme brulee. Make a reservation for two, escort your sweetheart, order some cocktails to pair your entrees, and enjoy a lovely seaside meal at The Strand.

Have you found yourself enamored by South Florida's features and are now thinking of moving here? Let the Carmenate/Duchon real estate team assist you! This esteemed duo will find the perfect Venetian Islands condo or South Beach real estate for you.