Miami is an internationally renowned mecca for warm weather, impossibly beautiful beaches, and nonstop nightlife. Within Miami is South Beach - affectionately nicknamed SoBe by locals and a crown jewel of a neighborhood where the iconic Miami Art Deco movement originated.
Today, Miami Beach real estate is in demand by those eager to indulge in its boutiques, clubs, and fine dining. With more energy than Los Angeles, more exclusivity than Las Vegas, and with winter temperatures that New York could only dream of, Miami offers a vibrant, enviable lifestyle.
Going vegan in Miami?
Miami is a health-conscious urban center that reacts to the tastes and preferences of a diverse crowd who own or rent Miami Beach condos. The culinary options are endless, and the lovers of a plant-based lifestyle are especially in for a treat. In 2019, Miami was named the top vegan city in America, beating out other food-health-conscious urban centers such as Los Angeles, San Francisco, and Portland.
Though veganism may have seemed like a fringe diet trend just a decade ago, it has quickly been embraced by the mainstream for the robust benefits it affords. Research has linked the diet to better health, including lower blood pressure and cholesterol plus lower rates of heart disease, type 2 diabetes, and even some kinds of cancer. Additionally, trying to eat a more plant-based diet is highly beneficial for the animals and the environment. A new study claims a vegan diet could be the single biggest way to reduce your environmental impact. Simply cutting meat and dairy, even by a percentage, has an outsized impact on reducing one's carbon footprint.
Regardless of your reasons for giving vegan cuisine a try, any worry about taste or quality is a thing of the past. Gone are the days of only boring rabbit-food options. As the plant-based movement has gained steam, a new crop of niche restaurants has made culinary waves.
South Beach is at the nexus of this change. The neighborhood teems with plant-based and healthy choices perfect for jumpstarting a habit. Residents here have them every need met from cafes to gyms, stores, and stunning beaches all within a stone's throw from their door. Whether a local or a visitor, a devoted vegan, or one curious about the plant-based lifestyle, everyone is sure to fall for a few of these South Beach's must-try vegan spots.
The best plant-based eateries in Miami Beach
Housed in an airy space with views of the water, Full Bloom promises an intimate, high-end culinary experience complete with fresh ingredients and excellent service. Founded in 2015, Full Bloom stakes its claim as the first vegan restaurant in Miami Beach. Its mission is to create a fresh and innovative approach to vegan dining. With an outpouring of love from locals and visitors alike, the restaurant remains not just as a favorite in the vegan scene, but the whole city.

Full Bloom Vegan, Credit: Miami New Times
If you're looking for quick and casual fare, make your way to

Plant Theory

. Available for both dine-in and take-out, this chic cafe and market at the Whitelaw Hotel offer organic wraps, bowls, and juices. Especially popular is the jackfruit BBQ burger for a fresh, energy-fueled lunch, and the kombucha on tap and vegan cheesecake is not to be missed. With their lively atmosphere and affordable menu, Plant Theory proves vegan cuisine is fun and can be for anybody.

SoBe Vegan

is the ultimate quick and casual restaurant. Featuring a friendly and colorful space with relaxing al fresco dining, SoBe's ethos centers around healthier food that doesn't sacrifice flavor. Open from 7:00 AM to 10 PM, SoBe Vegan serves delicious power bowls, smoothies, vegan hot dogs, and more all day and is guaranteed to impress vegans and omnivores alike.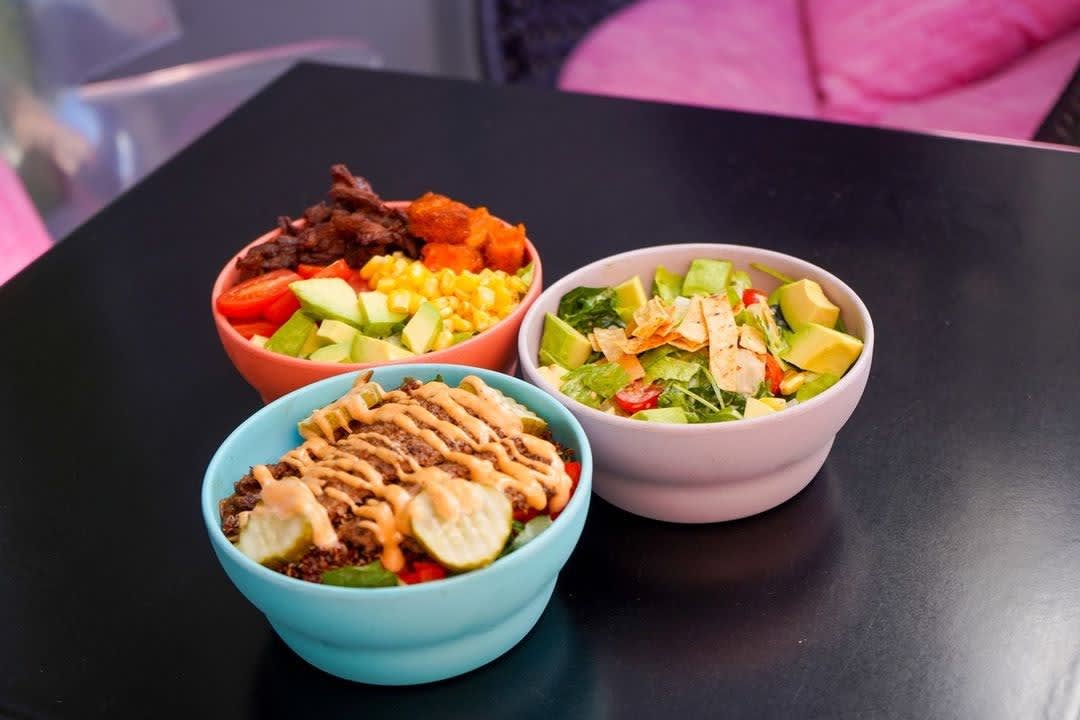 Credit: SoBe Vegan
Our list couldn't be complete without

PLANTA

, a decadent establishment aiming to expand the accessibility of plant-based dining. According to their mission statement, PLANTA reimagines, reinvents, and revitalizes, providing flavorful proof the power of plants can change the world. Repeat guests to the restaurant rave especially about the Udon Noodles with truffles and expertly crafted faux fish sushi rolls.

Credit: PLANTA
Whether to satiate a sweet tooth or to take a break from the heat, make your way to the beloved

Frieze Ice Cream Factory.

Owners of South Beach condos who frequent this shop comment about the extensive flavors available for vegans with many calling it the best ice cream in the entire city. Running continuously since 1987, the owners remain committed to using all-natural ingredients without any artificial colors, preservatives, and additives. The result: an absolutely delicious and refreshing ice cream hard to find elsewhere.
Miami Beach real estate is worth the investment
Miami's planet-friendly mission and dedication to health and happiness give the beach city growing popularity. Like the rest of the country, the Miami Beach, South Beach, and surrounding real estate market has seen tremendous growth since the start of the pandemic. With the option of remote work, living in a lush, sun-drenched paradise year-round shifted from the occasional daydream to sustainable reality, making these condos in particularly high demand.
As expected, the market is competitive, but purchasing in Miami Beach for either a seasonal or permanent residence is worth the investment. Local home prices have steadily increased by 20% year after year and currently, sit at 12% above the national average. The tourism industry has also continued to boom, with the city welcoming more than twenty million visitors the year before the pandemic.
Whether you're eager to start your South Beach home search or just curious to see what's out there, working with an expert realtor is essential. The right person can help you navigate the competitive market to unite you with the home of your dreams. If you're ready to dive into South Beach real estate, reach out to agent Carmenate/Duchon for expert guidance throughout the whole process.
Right now, experts are predicting mortgage rates to eventually rise, making this year the ideal time for investors to take advantage of historic market lows. As such a dynamic and beautiful place to live, anyone can find all their needs met in South Beach.